Harissa Paste or Tunisian blend is a hot chilli & spice paste widely used in many Moroccan and Tunisian dishes.
In Tunisia, this paste is added to soup, goat casseroles and fish stews. Also use with couscous for an added flavour.
We highly recommended using the Spice Library's Spices  harissa paste with our Ras-el-hanout spice blend for moroccan tagins and casseroles.
Harissa Paste Serving Suggestions:
Perfect marinade for lamb, beef, chicken or vegetables.
Use with Ras-el-hanout and preserved lemons for Moroccan/Arabian tagine dishes.
Try mixing with yoghurt and used as a side dip or marinade.
Recipe:
Use 1 tbsp of paste to 3 tbsp of yoghurt
Marinade lamb cutlets or chicken drumsticks for 2-3 hours or ideally overnight
BBQ, grill or pan fry.
Serve along side with the Persian Lentil Rice
When your recipe calls for a touch of heat – use this delicious paste for an added flavour with chilly or peppery heat.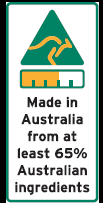 For the latest promotions and upcoming products – checkout our social page.