Winter Comfort Food.
This sumptuous recipe, Braised Beef Cheek Pie, is one of those lovely comfort food that you can cook over and over again without getting tired of it. Of course, this recipe involves you making everything from scratch. But don't be put off by it… you can take some short cuts such as buying pre-made pastry with the results guaranteed to be splendid.
Beef Cheek Spice Rub

– 2 beef cheeks (about 1.5kg)
– 1 tbsp all spice ground
– 1/4 tsp cloves ground
– 10 Tasmanian pepper berries (optional)
– 1/4 tsp star anise ground
–  Freshly grown black pepper
– 1tbsp sea salt
– 2 tbsp orange zest
-4 cloves garlic crushed
1 shallot chopped finely
4 sprigs of thyme
– handful of parsley chopped
4 tbsp of extra virgin olive oil5
***   Marinade the beef cheeks with the spice rub for at least 2-4 hours ***
Braising broth ingredients
 – 1 onion finely chopped
– 2 cloves garlic minced
– 4-5 celery stalks finely chopped
– salt & pepper
– 2 cups red wine
– 1 cup chicken stock
– cooking oil
Pastry Ingredients & Method

 Please see the Persian Ghee and sour cream pastry recipe. RECIPE
*** For pastry – you will need egg wash and some black sesame seeds ***
Filling Method
 1. Heat oil in a heavy based pot, saute onion and garlic until soft and slightly browned.
2. Add celery stalks  and saute for 5-10 minutes followed by red wine. Bring to boil and simmer for further 5 minutes.
3. Add marinated beef cheeks & stock to pot. Bring to boil and then simmer for 2-3 hours. Adjust seasoning. 
Braised cheek is ready when the meat falls apart and the broth is reduced to 1/4 of its original level. If the broth is still runny, mix with 1-2 tbsp of cornflour and stir well. Once ready, Let the filling to cool down for 30 minutes or so.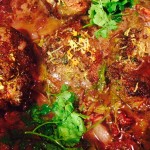 4. Cut the pastry in circle to line & cover the pie pan (1x large circle + 1x small circle for the lid). Place in the fridge for 10 minutes to chill. Then fill 3/4 with the beef cheek mixture. Brush the edges with egg wash and cover with a pastry to cover the pie.
5. Brush the pastry with egg wash and poke a few holes with a fork and then dust with black sesame seeds.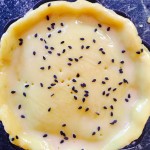 Alternative option for the pastry cover (lid). Use mash potato. The smooth mashed potato can be piped over the pie filling.