Tandoori Curry Recipe
Indian Tandoori Recipe - Quick and Easy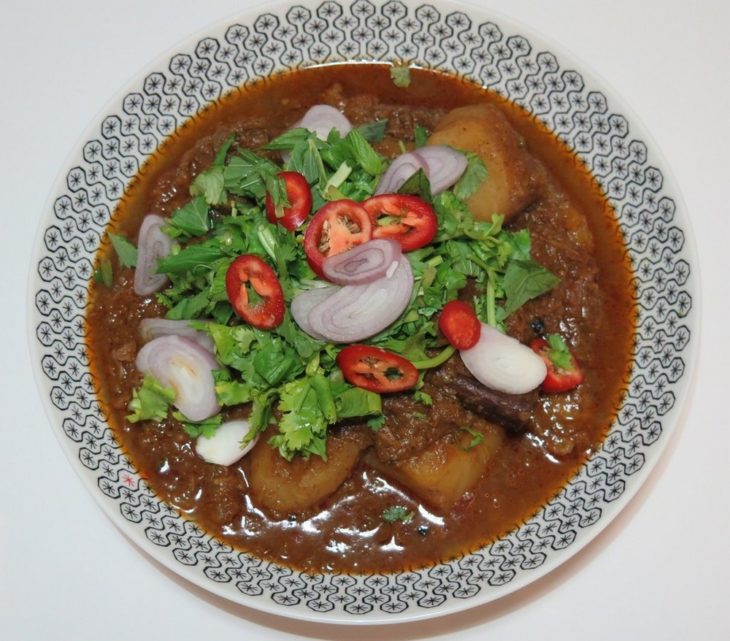 Tandoori Curry Recipe

Tandoori curry recipe a classic Indian curry made the easy way.
It is no surprise to anyone that I love Indian curry and above all I love playing around with different spices to create an awesome home-made curry.
Although I don't like to brag about this….once in a while I also like to cheat my way through recipes… and with the busy week before the Easter break, my motivation for cooking was at its lowest yet I wasn't quiet prepared for a take out curry. Admittedly, the stock in my fridge wasn't inspiring either. Luckily, I had some dorper lamb meat, half a pumpkin and a jar of the Spice Library tandoori paste to make a fuss free curry. And this is how my cheat Tandoori Lamb Curry came to fruition.
Serve this dish with a traditional Indian Bread (recipe here)
Love to hear your thoughts… feel free to leave a comment.
Enjoy!
Watch the video Here
Ingredients
1 tablespoon of coconut oil
1 tsp of cooking salt – extra for seasoning
2 tomatoes – roughly chopped
1 red shallot – finely chopped
1 clove of garlic – minced
1 tsp of fresh ginger – minced
1 green chilli – roughly chopped
1 cup of pumpkin and potato – roughly chopped
350g Lamb meat (you can substitute this with beef or chicken pieces if desired)
Boiling water – enough to just cover the curry mixture

Method

Heat Persian ghee and coconut oil in a heavy based non-stick pot (23cm-25cm diameter) over medium heat until starting to smoke.
Add the whole spice seeds and fry whilst siring until fragrant.
Add shallots, garlic, ginger and green chilies and fry to slightly brown. Stirring continuously allows for the flavors to evolve and bind together.
Then add tomato and meat and salt. Stir well to combine. Saute for 10 -15 minutes.
Then add Tandoori paste. Combine well and saute for further 10 minutes.
Now stir through the vegetables. Followed by boiling water. Cover and cook for 60-90 minutes on low heat. The long cooking time will allows the dish to come together.
Adjust seasoning before serving.
Garnish with chilies and fresh shallots and herbs.
Serve this dish with Persian Cumin Rice or traditional Indian Bread
---