Sri Lankan Salmon dish using the Sri-Lankan Curry Powder.
Our little stall in Subiaco markets was a library of sharing recipes and joy of cooking up a recipe. One of my staff was a lady from Sri-Lanka who always reminisced about her mothers' Sri-Lankan curry powder. So I thought to myself… surely blending Sri-Lankan curry powder was not that hard! Well, I was to be proven wrong.
Sri-Lankan cuisine has a unique complexity about it… the way the spices are roasted to give it the smokiness and the depth is delicate and requires patience.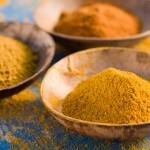 So after burning a few kilos of spice mixtures, throwing out many batches of curries cooked with what was to be my new blend… I finally nailed it. This took over 3 months to master. When my new blend came to life, I was very eager to share it with my staff and to some extent seek her approval. Deep down I thought she would come back and say "Yeah it's close to her mothers' master pieces…" But to my surprise, she said " It is great and even her husband thinks it is better than her mum's recipe…" I was amazed and was not expecting this whatsoever. So armed with confidence, I introduced this blend to my customers which proved to be a hit. Ohh what a great moment that was….
So this simple, easy and wholesome Sri lankan Salmon dish is her recipe:
Ingredients
– 2 Salmon Fillets
– 2-3Tbs Sri-Lankan curry powder
– 1 Tsp turmeric
– 2 Tbsp freshly ground black Pepper
– 1 Tbsp Dried Chilli Powder (Optional)
– 10 dried/fresh curry leaves
– 2 red shallots- finely diced
– 2 cloves of garlic – crushed
– 4Tbsp Persian Ghee or 4 Tbs Oil
– 1 Tsp Salt and some extra for seasoning the Salmon
– 1 Lemon Juice
Method
1. Mix all the above ingredients and spices with the Persian Ghee to make a moist paste/mixture.
2. Pat dry the salmons from any moisture, then lightly season. Then rub the paste all over the salmon until well coated.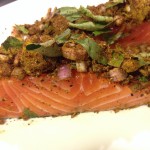 3. Wrap each Salmon piece in an al-foil and bake at 160-170C preheated oven for 30 minutes until the fish is cooked to your desired liking. Add a squeeze of Lemon juice and then place the Salmons uncovered back into the oven to achieve a blackened top/crust.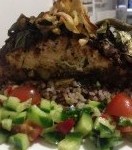 4. Add more lemon juice if required before serving.
This dish is delicious served with mango chutney, salad and Sri-Lankan red Raw rice.