Rendang Curry

Rendang curry a classic Malaysian curry.
I am a BIG fan of Malaysian cuisine even though some recipes require a lot of preparation. Not to mention the strong odour of shrimp paste or Balachan…. Still worth all the efforts and smelliness.
I first tried Rendang Curry at university canteen some years ago. I was absolutely hooked and it was dirt cheap for university students.
No doubt there are many versions of this recipes. But this is Anna's one! Using my own perfected Rempah Spice Mix and the right variation of chillies to give it the heat and chilli flavour I was after.
I hope you enjoy making this dish as much I do.
Love to hear your thoughts… feel free to leave a comment.
Enjoy!
Watch the video Here
Ingredients
Stage 1 – Rempah Paste
30g of the Spice Library Rempah Spice Mix
5 shallots roughly chopped
4 cloves of garlic roughly chopped
50g ginger roughly chopped
50g galangal roughly chopped
4 lemon grass – white parts only roughly chopped
120g organic coconut chips 
10 hot red chillies + 3 Gaujillo Chillies – deseeded and snipped into small pieces. (soak the chillies in ¼ cup of hot boiling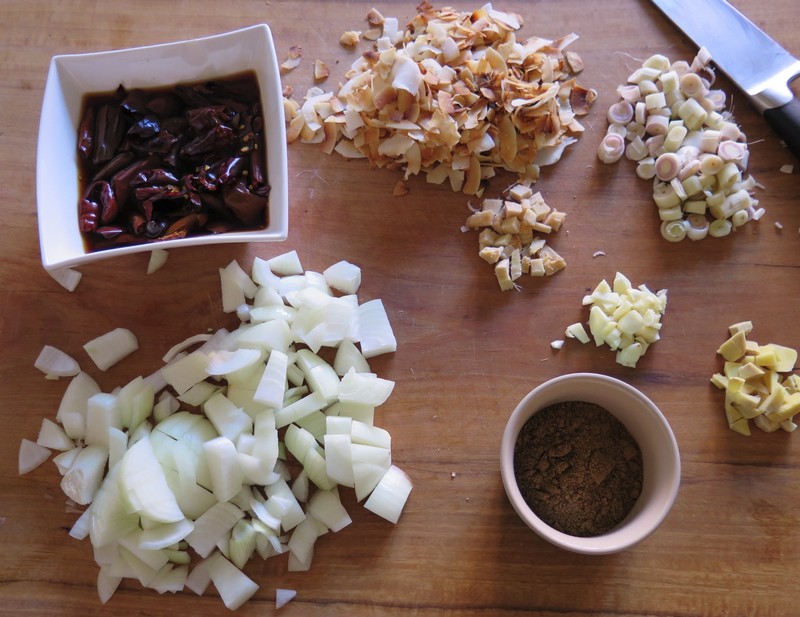 Stage 2 – Meat and Remaining ingredients

1.5kg of the chuck steak cut into 3-4 cm pieces
1 Cassia quill
3 black cardamom
500ml coconut milk
Tamarind Paste ***
50g dark brown sugar
1 ½ tsp of salt
160ml of peanut oil
Seasoning and extra sugar
*** to make tamarind paste – dissolve 50g of tamarind solid in ¼ cup of boiling water for 15 minutes. Then message the pulp with your hands until completely disintegrated. Press the mixture through a sieve and discarding the pulp.
Method
To prepare the rempah paste, add all the ingredients from stage 1 in a blender and blitz into a fine paste.
Heat oil in a heavy based non-stick pot (23cm-25cm diameter) over medium heat until starting to smoke.
Add the paste. Stir continuously to mix well.
After 10 minutes, turn heat and let the paste to caramelize. Stirring continuously allows for the flavors to evolve and bind together.
Add salt and stir again.
Continue frying until oil begins to separate from the paste. Remove from heat and set aside. (total of 30-45 minutes)
In a larger heavy based pot over medium heat, add stage 2 ingredients. Mix well.
Cover the pot and bring to boil for 5 minutes.
Then add the rempah paste to the pot, mix through until well combined.
Reduce heat and simmer for 2 hours until the meat falls apart and the gravy has thickened.
Adjust seasoning and sugar to your liking. Remember you are after sweet, sour and chilli flavour.
Serve with fragrant tropical rice. See the recipe for this dish.
Note: if you like a much runnier curry, just reduce the cooking time.
Nush-e-Jan! (Enjoy!)